I had managed to pick up a copy of one of Veronika's rare "The Model" CDs several years ago (according to her then manager only a few hundred were ever produced). Here's a hires scan of the cover:
Tracklist
1. The Model : Written-By – Schult, Bartos, Hutter – 3:08
2. Super Model : Written-By – J. Dirne, Tjoe Bizarre – 5:03
Recorded At – Jodi Studio
Copyright ℗ & © 2001 – Bizarre Music
Distributed By – Music Net
Licensed Through – ToCo International
Credits
Artwork – Thijs De Nijs
Guitar – John Oosterlaar
Photography By [Cover] – Onno Klein
Producer – J. Dirne, Thijs De Nijs, Tjoe Bizarre
I recall reading a posting in Veronika's Diary about how she was to appear on a British TV show to perform "The Model" but then had her appearance pulled from being aired because of some rights issues for it's rebroadcast not being granted by Kraftwerk (the original song's artists). I have attached Veronika's own account of the events below:
My dear fans,

I was going to tell you a little more about that adventure in Paris, last year, where that 'Eurotrash' TV show was recorded. Mind that it's actually a show particularly for the British, but about the foreigners, abroad. Like the name of the show already suggests, it actually is about the (supposed) strange behaviour of the weird people that live on the European continent. The British apparently like to make fun of them (like also the European citizens sometimes make fun of the British). Anyway, as I wrote already, that show is not supposed to be taken seriously. It's just plain entertainment, without pretensions.

They already before had expressed some kind of interest in me, as one of the most popular European internet models, to feature in their show, but they were definitely interested, when they had found out I just had started a career as a singer as well. They eagerly wanted me to perform my first record, 'The Model', in their show, and they had done everything possible to make it a great recording. They had hired some professional female dancers, and they had thought of a great setting, in so far that I actually was performing before a plain blue wall that later on, in the post-production, would be replaced by futuristic graphical animations.

It took some hours before the shootings were concluded, but finally everyone, including me, was very happy with what we had achieved, even though I only had a vague idea how it was supposed to look like, later on. Mind that it was the first time I was performing my song before a camera, and a professional crew. Actually it was the first time I was performing that song at all. Anyway, I was looking forward to that TV program to be broadcast, but unfortunately it didn't work out as I had expected, and hoped for. As anyone had expected, actually. Just before my performance was scheduled, as item of the show, my manager was informed that the management of the German band Kraftwerk, which group originally had written and recorded 'The Model', wasn't willing to authorize Channel 4 to broadcast my version of that song. Not because they didn't like me – they actually didn't know who I was – nor that they didn't like my version of the song – they hadn't heard that yet – but just because they didn't want any cover version of their songs to be broadcast anywhere. Until now, about a year later, we still don't know what their problem is.

Since that forbidden 'Eurotrash' performance was supposed to be the spearhead of the promotional campaign, we consequently also had to cancel the international release of my first CD-single, which of course is a pity. However, I still hope one day some ambitious record distributor will give it another try.

Kisses, Veronika.
Would have been interesting to see how things might have turned out differently if the broadcast rights were granted. Perhaps she would have gone on to a successful singing career as well!!! I guess we'll never know.
In the end all that aired on Eurotrash that day was this strange "head change" video:
and Veronika wound up giving the remaining CDs away at Glamourcon: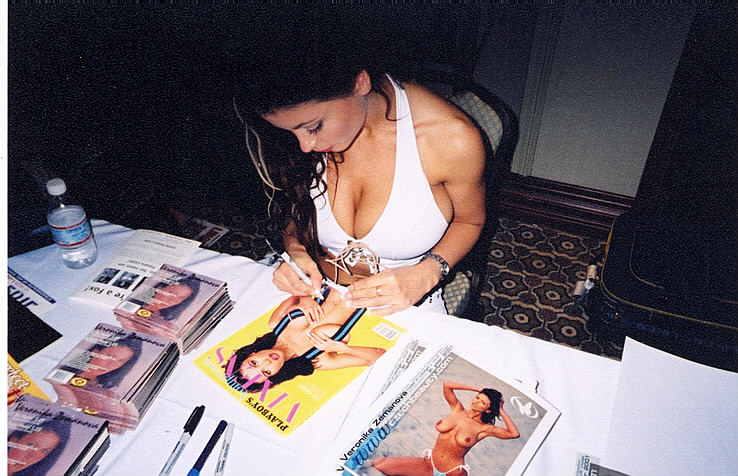 So if you happen to find any copies of the CD for sale anywhere, be sure to pick one up … they certainly are a "collector's item"
The cover photo was shot by Onno Klein as part of a two day photoshoot in Amsterdam. Too bad only a couple of pics from this set were ever published 🙁
A few months ago I also found this CD from the same publisher. Seeing Veronika on the cover I thought … WOW … another CD !!! Turns out however that only Veronika's picture is used on the cover and she does not actually sing on this CD. Too bad!!!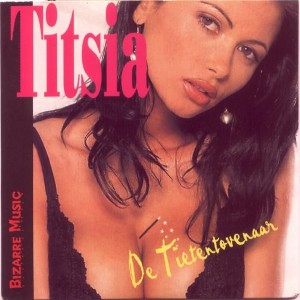 Cheers
t-man